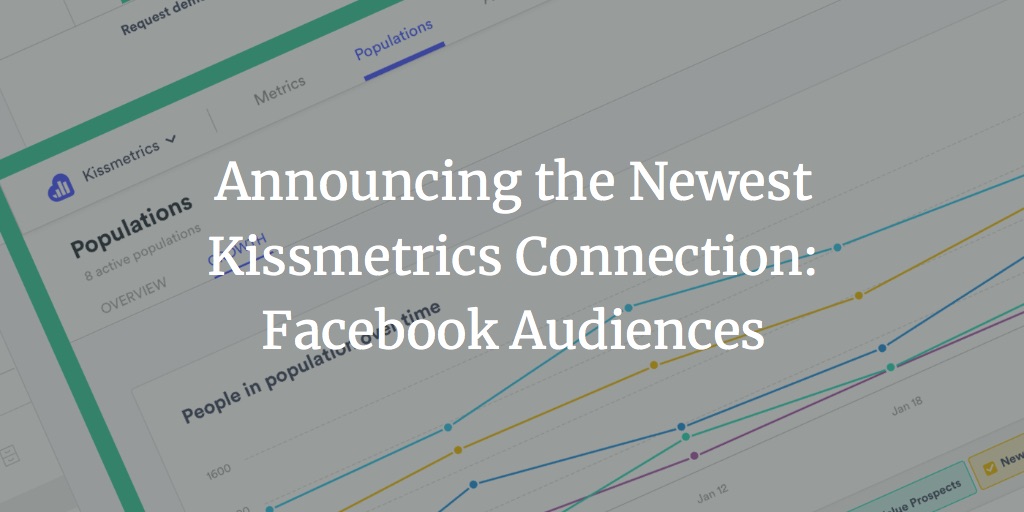 Kissmetrics Populations lets you track key segments of your user base. In just a few steps, you can track user activity, marketing performance, and product engagement.
And now we're making it even better.
With our latest iteration, you can connect a Population to a Facebook Custom Audience for even greater targeting and tracking in Kissmetrics.
Let's see how it works.
The Facebook Custom Audiences Kissmetrics Populations Connection
Facebook Audiences is an advertising product from Facebook that lets marketers advertise to existing customers. As long as you have email addresses, you can advertise to that group on Facebook through Audiences.
Here's where Kissmetrics Populations comes in.
If you're using Kissmetrics and identifying your users by their email, you can turn a Population into an Audience on Facebook that you can then advertise to.
Let's say you're an eCommerce company and have created a Population for the one and done buyers – the people that made their first purchase 6 months ago but haven't made one since. Here's how that Population may look:
We see that there are 2,983 people in this Population. If we scroll down, we'll see the users email addresses:
These customers are ripe for a new advertising campaign. We'll create an advertisement on Facebook that offers them 10% back off their next purchase.
So, with this Population in our hand, we'll move over in Kissmetrics and click on the Connections tab and Authorize the Facebook connection:
And just like that, you have your new Custom Audience in Facebook. And the best part is that it will automatically update when new people enter the Population, or people leave the Population. So if you get a user who was in this Population and advertise to them and they come back and make a purchase, they'll automatically be removed from the Population in Kissmetrics, which will update the Custom Audience in Facebook.
3 Populations You Can Create Right Now
Populations are a great fit for eCommerce stores. Here's 3 Populations you can create right now:
1. The "Browsers"
These are the groups of people who continually visit your eCommerce store, but never actually make a purchase. Keeping track of this Population will help you know how well your site is converting prospects, as well as how many people are just browsing without buying. In many cases, this may indicate how many people are price shopping your store.
Keep in mind that you will have to have that person's email address before you can move them to a custom audience in Facebook. In many cases, a person will give you their email address for signing up for an email newsletter. You can promote something like "10% off your first purchase when you sign up for our newsletter" and you'll probably get a barrage of new emails to your list. Once you have that, you can then track the browsers and advertise to them on Facebook.
2. Customers That Haven't Purchased After X Amount of Days
Since most eCommerce stores don't have a recurring revenue model, they need customers coming back to purchase. Many stores incentivize this through loyalty programs. With Populations, you can track how many customers haven't purchased from you after a certain amount of time. Then you'll connect that Population to Facebook and advertise to those customers to win them back and earn a repurchase.
3. Lost Loyalists
Loyal customers are great. They keep your business alive and thriving. So needless to say, you don't want to lose them. But, it's inevitable that some of your loyal customers will be moving some of their purchases to other stores. That's why you'll want to keep track of how many of these "lost loyalists" you've had over the months.
Log in to Start Using Populations
If you're a Kissmetrics customer, you can login and start using the new Populations Facebook integration. If you have any questions, you can reach out to our support team and we'll be more than happy to help you.
If you aren't a Kissmetrics customer but would like to learn more, you can request a demo.
Don't Miss Out on other Connections
Connections go beyond Facebook.
If you use Slack, you can use our Populations connection to stay on top of all your Populations without having to logging into Facebook.
Our HubSpot connection will enrich any customer profile in Hubspot with data from Kissmetrics.
And we have many more connections coming. Stay tuned to this blog for future product announcements.